Clear Blue Technologies' Smart Off-Grid Power Helps 'Connect the Unconnected' in Rwanda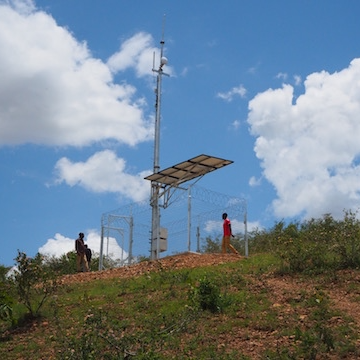 Clear Blue powers Vanu voice and data services for rural communities around the world
March 5, 2018, Toronto, ON – Clear Blue Technologies Inc., the Smart Off-Grid™ company, is helping Vanu, Inc. to provide cellular coverage that will support up to one million customers in rural Rwanda. Vanu pioneered a wireless communications solution and a coverage-as-a-service business model that makes it economically viable to provide telecom services to remote areas. Clear Blue's Smart Off-Grid solution and service provides the accompanying 'power as a service' to provide reliable, wireless, clean managed power for the Vanu cellular base station.
Miriam Tuerk, co-founder and CEO of Clear Blue Technologies, said, "Over 25 percent of the world's population lives without access to reliable sources of electricity, and in sub-Saharan Africa that percentage is even higher. The lack of clean, affordable, and reliable power has a profound effect on people's health and economic opportunities, so we are thrilled to kick off our partnership with Vanu with this first project to help provide critical communications services to remote communities in Rwanda. Our Smart Off-Grid system delivers the affordable and reliable power needed for this vital communications service, and we manage, monitor, and control it online through our Illumience cloudplatform."
Andy Beard, Group CEO of Vanu, stated: "Clear Blue's Smart Off-Grid system enables us to install our communications solutions in areas without grid power or skilled labor for ongoing system maintenance. This assists in our objective to lower the cost per cell site to a level that permits sustainable service in sparsely populated areas. This collaboration highlights our joint vision of helping mobile network operators extend coverage to rural communities in Rwanda and elsewhere and simultaneously increase revenue and profits. We look forward to working with Clear Blue in the future to roll out rural market solutions for mobile operators worldwide."
With extensive management and control capabilities, automated monitoring and alerts, proactive weather forecasting, and the ability to optimize systems remotely, Smart Off-Grid technology helps to keep systems running, prevent outages, and enable remote troubleshooting when needed to quickly resolve any issues. The Smart Off-Grid power system, backed by Clear Blue's service team who manages and operates all of its customers' systems, results in unmatched reliability, long-lasting system performance, and a reduction of up to 80 percent in maintenance and operational costs.
About Clear Blue Technologies Inc.
Clear Blue Technologies, the Smart Off-Grid™ company, was founded on a vision of delivering clean, managed, "wireless power" to meet the global need for reliable, low-cost, solar and hybrid power for lighting, telecom, security, Internet of Things devices, and other critical systems. Today Clear Blue has over 400 customers and 4,000 systems under management across 34 countries, including the U.S. and Canada.
With its Smart Off-Grid technologyand the industry's most advanced remote cloud management system, Clear Blue's service team manages and operates all of its customers' systems, delivering unmatched reliability and long-lasting system performance while reducing installation and maintenance costs by up to 80 percent. Under the Illumientbrand, the company sells complete solar and wind-powered lighting systems. Learn more about Clear Blue Technologies at www.clearbluetechologies.com.
About Vanu, Inc.
Vanu sells products and services that enable mobile network operators to profitably serve rural markets, unlocking new revenue sources for operators and providing the benefits of connectivity to previously unserved populations. Vanu's solutions combine technology and business model innovation to reduce the total cost of ownership of wireless networks. The company grew out of groundbreaking research in software radio at MIT. Learn more at: www.vanu.com.
Media Contacts:
Becky Nye
Associate,
Montieth & Company/North America
bnye@montiethco.com
+1 646 864 3517
Zarna Patel
Senior Associate, Montieth & Company/EMEA
zpatel@montiethco.com
+44 (0)20 3865 1947

Debi Aubee
VP Sales and Marketing
daubee@vanu.com
+1 617 864 1711
###