Clear Blue Technologies Extends Smart Off-Grid Technology Advantage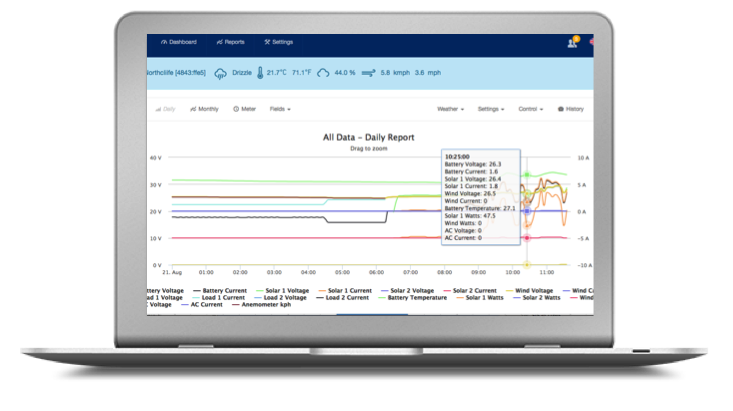 Release includes new software features and enhanced Internet of Things device support
Toronto, ON, March 29, 2017 – Clear Blue TechnologiesInc., the Smart Off-Grid Company, announced general availability of release 3.0 of its Smart Off-Grid technology, used to power, control, monitor, and proactively service solar off-grid and hybrid-powered systems including street lights, security systems, emergency power, and Internet of Things devices. Smart Off-Grid combines a multi-load solar controller, built-in communications, and the industry's most advanced off-grid intelligent lighting and load management and control system.
"Using solar, wind and other hybrid energy to power mission-critical systems like lighting, security, Wi-Fi hotspots, and other Internet of Things devices allows them to be deployed anywhere, and eliminates the cost of installing power lines as well as ongoing monthly utility costs," said Mark Windrim, CTO of Clear Blue Technologies. "Smart Off-Grid technology ensures that they actually work as expected, with the highest level of performance, reliability, and security in the industry. Clear Blue continues to extend our technology lead over competitors by delivering the most flexible, robust, feature-rich, and secure platform for these critical services."
The new Smart Off-Grid release includes many new capabilities, such as:
Enhanced software capabilities:
Software downloadenables the Smart Off-Grid controller to be remotely updated over the network, so that existing installations can benefit from new capabilities and take advantage of new features.

New notification engine for alarms and alerts. Smart Off-Grid monitors the status of system components, sends status data to the cloud management software and sends alerts to authorized users when necessary. In the new release, additional capabilities have been added to report potential issues with loads (light failure alarms); energy storage (theft alarm); and other system failure and warning alerts.

Automated installation verification tests.Clear Blue's validated installation tools ensure the system is working properly before an installer leaves the site. New tests have been added to test the motion sensor and other associated connections, and to expand the light test capabilities.



Load and energy storage enhancements:
Battery and charging profile enhancements, using Clear Blue's patent-pending Dynamic Charging technology, improves the lifetime of the batteries, enables additional remote controls, and improves accuracy regarding charge profile adjustments. Additional Smart Battery support is also delivered with this release.

Energy management enhancements –

Clear Blue's amp-hour and battery cycle life analytics now provides the ability to forecast and manage battery life. Customers will be able to not only manage system uptime and performance, but also be able to control and monitor the aging of their energy storage systems, thereby ensuring that their TCO business cases are realized.

Platform and hardware enhancements:
Enhanced infrastructure security. With Smart Off-Grid technology, systems and devices communicate over a highly secure network. The new release incorporates additional security features to ensure that the network is safe from unauthorized access, using advanced data encryption; message authentication; replay attack avoidance; and other state-of-the-art security techniques.

Expanded hardware

support. Clear Blue's mantra "We work with any light" is better supported with expanded light control options, so that all light types can now be remotely configured in the cloud, removing the need for pre-install custom configurations. This allows analog dimming and PWM dimming to be set online, eliminating the need to have two distinct hardware versions, making it more cost-effective for OEMs to keep an inventory of controllers. In addition, an external port has been added to enable international communications parameters to be updated locally.

Expanded solar and hybrid energy support –The Clear Blue Smart Off-Grid controller can now support up to 4 solar panels or a myriad of hybrid systems including more intelligent grid-connect and solar-diesel combinations for optimum off-grid options.

Enhanced IoT load support –As Clear Blue's customers begin deploying a wider range of oil and gas, telecom, and other Internet of Things devices, surge currents and false short circuit trips become problematic. With this edition of Smart Off-Grid, Clear Blue now has the industry's most advanced flexibility and remote control capabilities, to ensure that a wider range of devices and systems can be supported.
"In the off-grid world, there is no fallback to an unlimited grid source. Supporting the explosion of devices and power configurations is critical to the growth of off-grid systems," said John Tuerk, chief power officer of Clear Blue. "This new release delivers unmatched flexibility, performance and reliability to our customers, and is backed by our expert service team to ensure that every system, in every country, is working and delivering as promised."