City Of Hamilton Wins Canadian Outdoor Lighting Project Of The Year For Clear Blue / Illumient Solar Streetlight Installation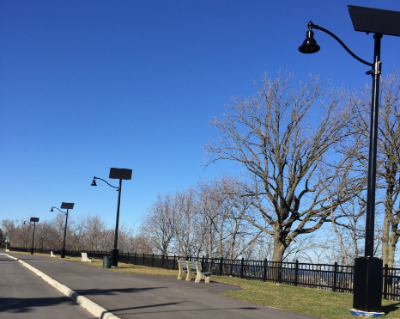 Toronto, ON, November 29, 2016 – Clear Blue TechnologiesInc., the Smart Off-Grid Company, announced that the City of Hamiltonreceived the Canadian Outdoor Lighting Project of the Yearaward from LightSavers Canada for its Mountain Brow Boulevard installation of IllumientSmart Off-Grid streetlights. LightSavers Canada is a market transformation initiative of the Canadian Urban Institute (CUI), and their innovation awards are intended to "showcase and celebrate individuals, projects and organizations making a profound impact on the advancements of energy efficient exterior lighting systems across Canada." The award was presented to the City of Hamilton at the 2016 Annual LightSavers Summit in Toronto on November 18.
"We are proud to be recognized by the Canadian Urban Institute for this outdoor lighting project," said Gord McGuire, Manager of Geomatics & Corridor Management for the City of Hamilton. "We've used solar power and a series of connected smart lights to enhance access to the City's escarpment vista along Mountain Brow Boulevard. Clear Blue Technologies was instrumental in helping us to create this green energy project and one of the largest off-grid pathway lighting projects in Canada."
About the Project
The City of Hamilton received the award for its installation of 40 Illumient solar-powered lights in a park in the Niagara Escarpment. The lighting was installed in 2015 and enables residents to enjoy the park area throughout the year and later into the evening.
With less than one foot of topsoil, installing traditional electric lighting would have required quarrying through solid rock for over 2 kilometers in length, an expensive and difficult undertaking. In addition, the City wanted to reduce the growing burden of utility costs from electric streetlights. After public input and consultation with local residents, the City of Hamilton decided to install decorative poles and light fixtures from Illumient to complement the beautiful surroundings.
Every Illumient light comes with built-in wireless connectivity that automatically sends real time information to Clear Blue's Illumience cloud software, enabling monitoring and control over the Internet. This allow for immediate changes to lighting profiles if needed, and the Illumience predictive weather forecasting ensures that actions can be taken to ride through periods of bad weather so the lights will deliver the service needed year round.
"The Niagara Escarpment is one of the world's unique natural wonders and the addition of lighting in this area by the City of Hamilton allows residents to enjoy it year round. We are so pleased to have worked with the City on this project, and applaud the decision by LightSavers Canada to recognize the City for this wonderful project," said Miriam Tuerk, CEO of Clear Blue Technologies.