The Clear Blue controller makes it simple to set up lighting profiles that automatically adjust based on time of day, day of week, and whether or not motion has been sensed (motion sensor option must be included.) What's more, it can also manage two independent lighting profiles. The profiles can be adjusted remotely using the Illumience Cloud Control service over the Internet, from any Web-enabled device, including modern smartphones. This allows for full customization of the lighting profiles at any time to provide virtually any type of lighting profile imaginable.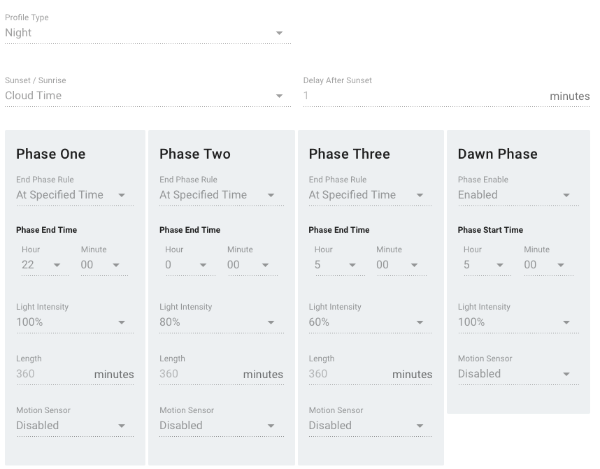 The picture below is just an example of what the system can do. The incredible flexibility along with Illumience remote control gives you the option to set up the lighting profiles you want and change it whenever you need to. Unlike other products that require you to arrange and set up remote communications or where "remote" service means within feet of the pole, the Illumience Cloud Service is entirely integrated into the Clear Blue controller.
The light profile is broken into multiple phases of variable length.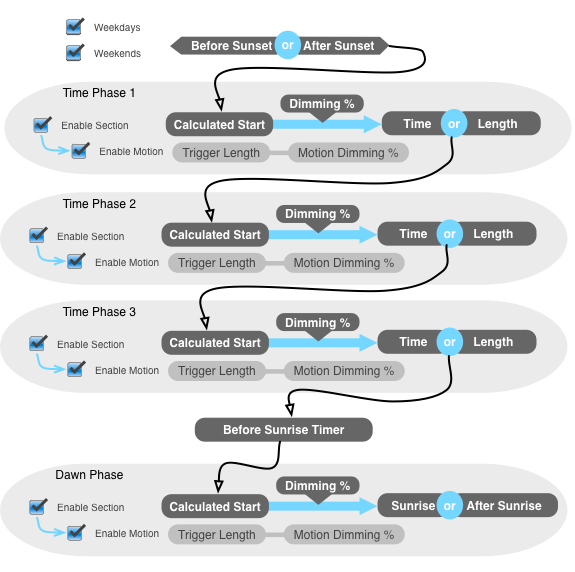 This chart explains some of the different options available in the profile.
Illumience Cloud Control calculates the sunrise and sunset times for each location, as these times change based upon that location, as well as the time of year. This would, for example, allow you to define the following type of profile:
Enable streetlight 10 minutes before sunset at 50% LED intensity

Keep the light at 50% brightness until 8PM, and then increase to 75% brightness.

Keep the light at 75% brightness until midnight, and then adjust to 20% brightness until 4am, but also enable motion sensing during this time. If motion is detected, raise the intensity to 75% for 5 minutes (or until the motion sensing stops.)

At 4am the light goes off, but motion sensing is enabled until 1 hour before dawn, at the above motion sensing levels.

At 1 hour before dawn, set the light intensity to 50% and disable the motion sensing function.

Turn the streetlight off 15 minutes after sunrise.

Through Illumience Cloud Control, you not only have full control over the profile, but you can also set alerts for motion sensing, or check to make sure that the profile operated exactly as planned.