Women of Influence: Miriam Tuerk is revolutionizing the way we use electricity.
2022/10/19
Media Coverage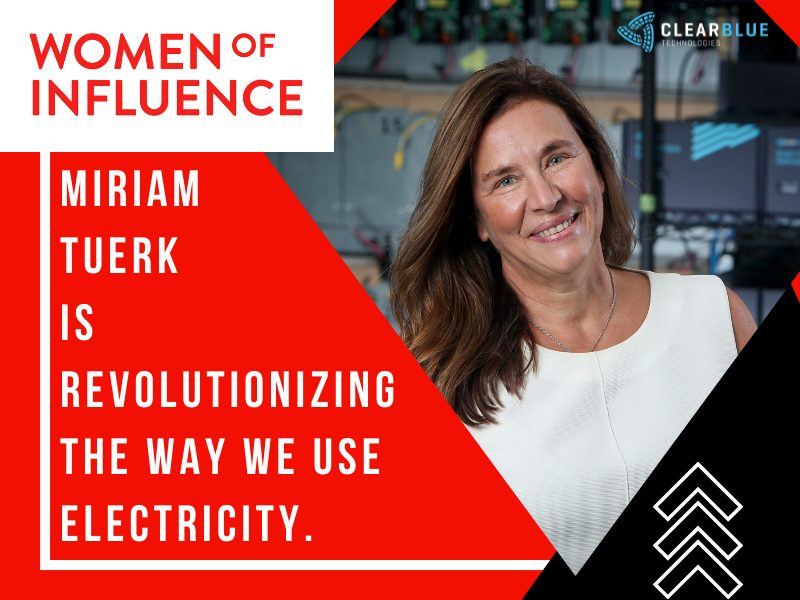 With products in 37 countries, the co-founder of Clear Blue Technologies shares her journey.
October 18, 2022
By Sarah Kelsey
Miriam Tuerk says an electric revolution is coming and it's about to unfold in the power industry.
"If you look at the world's telecom structure, once upon a time, everything was wired and cabled — think of phone jacks. And today, a big part of the network is wireless. There's the wired world and the wireless world," she says. "When it comes to electricity, we haven't fully evolved past the wired world; everything is connected to the grid. That's where Clear Blue Technologies comes in."
Miriam co-founded the "smart off-grid company" alongside her husband John and a long-time colleague and friend of hers, Mark Windrim, as a way to evolve how everything is powered, from lighting and telecommunications towers to Wi-Fi hubs and Internet of Things devices in today's smart cities.
The trio started with a simple concept: if you could create a pint-sized wireless solar cell that had the ability to generate enough electricity to power a street light, you could essentially revolutionize and democratize everyone's access to electricity.
So that's what they did.
From the Tuerk family basement, Clear Blue Technologies became the first company in the world to develop and export tiny, wireless solar and solar-hybrid controllers that have built-in communications networks, allowing them to power just about anything off the grid.
The team also developed a cloud-based software system and service, Illumience. This unique technology allows them to remotely manage and control the power to ensure maximum system uptime, the longest system life, and to reduce upfront costs by approximately 40 per cent — as proven in Meta's recent SmartPower Project.
"If a community could power a street light by a solar cell sitting on top of the street light pole instead of through the grid, imagine all of the waste it could eliminate."
The result is a clean energy technology that offers unmatched reliability, and reduces ongoing maintenance costs by up to 80 per cent.
"If a community could power a street light by a solar cell sitting on top of the street light pole instead of through the grid, imagine all of the waste it could eliminate: cords, trenching, construction, running of wires, connections," Miriam says. "The environmental and economic impact and savings are massive."
A critical part of the company's success has been the backing and support it has received from Canadian trade ecosystem partners such as Export Development Canada (EDC), the Business Development Bank of Canada (BDC), and others.
"Start with MaRS. Start with government support agencies. Get involved with EDC and BDC, and when they tell you to take certain courses, take them," she says. "Listen to the advice they give and the educational info they suggest you dig into. They're in the business of helping make your business great."
Relying on insights from experts at EDC, one specific resource Miriam took advantage of was EDC Credit Insurance, a solution that protects businesses against non-payment caused by a variety of events, from contract cancellation to issues with currency transfer, and more. Not having to worry about receivables was critical when Clear Blue was still a young business, she explains.
"The first program was key to us in the early days," Miriam says. "As we built our balance sheet and added financial products from Canada's leading banks, the support of EDC to do that was critical, without which we would not have that today. And banks are critical to trade and payments."
"As we built our balance sheet and added financial products from Canada's leading banks, the support of EDC to do that was critical."
Even today, Miriam continues to lean on her advisors for support and guidance, especially as she looks to turn Clear Blue into a $1 billion company — one of her next big goals.
She says she and her team know they have a huge competitive advantage because of their technology, and they are determined to invest in R&D to maintain that lead. She's also hoping to expand the use of the technology, especially in the developing world. Right now, the company's systems can be found in 37 countries, 25 U.S. states, and nine Canadian provinces.
When reflecting on how exporting has impacted her business, Miriam admits that there were things she and her co-founders didn't know — but they braced themselves for challenges and had support from EDC.
"From day one, Clear Blue's vision was to export our products across the world to many companies, but we did not understand the complexities and challenges of exporting," Miriam says. "EDC came to the table very early with their support for the cleantech sector. At the time we said, 'That's nice to have.' We did not understand that it was a need to have. Without EDC's support, we would have been unable to establish both our inbound supply chain and our exports to multiple countries."
One of the biggest barriers Miriam sees to Clear Blue's success is the general reluctance of some businesses and government officials to implement true decarbonization strategies.
Many folks won't evaluate off-the-grid projects just yet. "They're not in the business of delivering services and are more in the business of delivering products," Miriam notes. There's also the impending recession and current interest rates; in tough economic climates, there's less desire to fund unique, innovative projects.
But that doesn't deter her or dampen her optimism for what's next for Clear Blue.
"I've run a few marathons in my life, and getting to the starting line is 80 per cent of the challenge because you have so much training to do," she says. "I believe 30 to 50 per cent of the electricity will be wireless in the next few decades. So, I liken this next phase to starting a new race. We have the lead and the potential. What we're doing can and will change the world."
Export Development Canada (EDC) is dedicated to
helping Canadian women-owned and -led businesses
succeed on the global stage by providing the financial solutions and international insights they need to grow with confidence. Whether you've just started exploring international markets, or you're already conducting trade outside Canada, we can help your business reach its global potential with confidence. For more information and to learn how we can help your company, call us at 1-800-229-0575 or
www.edc.ca
.