Inside Towers: Clear Blue Technologies Drives Innovation and Growth with its Smart Pico-Grid Power Product for Satellite WiFi and IoT Markets
2022/03/23
Media Coverage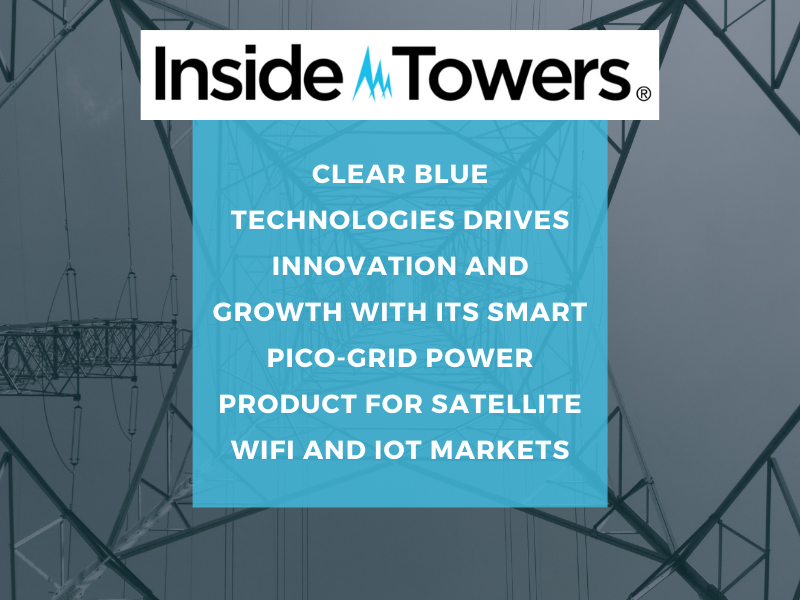 Clear Blue Technologies (TSXV: CBLU), based in Toronto, ON, yesterday announced the launch of its smart Pico-Grid power product for mission-critical, satellite-enabled WiFi and IoT applications in remote areas where the electrical grid is either unreliable or not available at all.
Pico-Grid is a complete, cloud-based smart off-grid power system that includes a solar panel, battery, and is remotely controlled from Clear Blue's operations center in Toronto. The system is a cost-effective, fully managed, and uniquely designed "wireless power" product that meets the ultra-low-power requirements of satellite WiFi and IoT applications.
Importantly, the Pico-Grid product creates new business opportunities for Clear Blue. The company has already announced partnerships with two satellite service providers, iSAT Africa and Yahclick, to drive connectivity services in Africa. This new product will enable additional partnerships and contracts with other satellite service providers. Satellite industry estimates size the global market for IoT-focused satellite services, including end-device connectivity hardware and annual connectivity fees, to be worth nearly $6 billion by 2025 with as many as 30 million satellite IoT devices deployed globally.
Clear Blue bills itself as the Smart Off-Grid™ company that delivers clean, managed, wireless power to meet the global need for reliable, low-cost, solar and hybrid power. Such off-grid power sources support lighting, telecom, security, IoT devices, and other mission-critical applications.
All Clear Blue products are designed to enhance power reliability by matching anticipated future energy generation to on-site loads. This is done through Clear Blue's advanced data analytics and patented energy forecasting which are part of Clear Blue's Energy-as-a-Service (EaaS).
Pico-Grid becomes the company's third product line after the established Nano-Grid smart off-grid power system for telecommunications and Illumient smart, solar street lighting products that are all built on Clear Blue's patented cloud-based, smart off-grid system design. Every Pico-Grid product comes with Clear Blue's EaaS offering, relieving customers of managing their site power systems.
"Clear Blue continues to lead the power revolution, enabling more services to go from wired power to fully wireless," said Miriam Tuerk, co-founder and CEO of Clear Blue. "Pico-Grid gives us access to new markets in satellite WiFi and IoT applications while empowering our customers to achieve lower costs and increased uptime through our managed Energy-as-a-Service offering. This enables our customers to provide reliable, wireless internet services, at the lowest cost, which in turn facilitates more end-users to get connected. The impact of this is unparalleled and will dramatically change the future of power and internet services."
Clear Blue has established itself with this smart off-grid technology. To date, the company has logged more than 8 million operating days with 9,000 global smart off-grid controllers deployed in 37 countries. Clear Blue will commence Pico-Grid product shipments in Q2 2022.