Meet the 50 fastest-growing green companies in Canada
2022/06/03
Media Coverage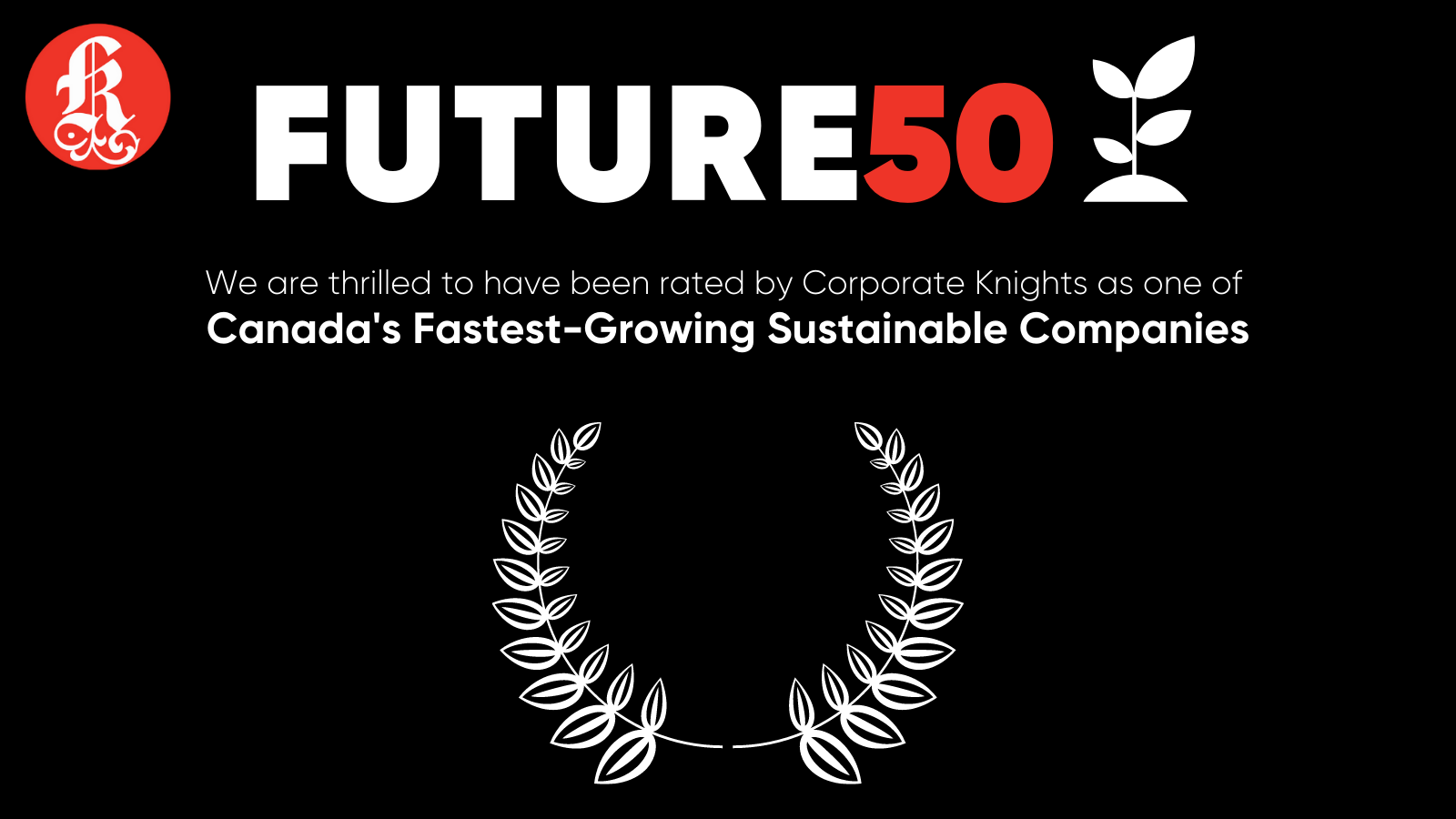 Meet the 50 fastest-growing green companies in Canada
Cleantech and sustainability innovators are among the fastest growing Canadian businesses and entrepreneurs this year
Last fall, an ambitious survey covering 10 countries found that 84% of young people aged 16 to 25 are at least "moderately worried" about climate change – and 59% are extremely worried. They don't see the "adults" – in business or government – making any of the hard decisions required to avoid the climate crisis. Instead, they see our net-zero targets slipping away and they feel betrayed.
But daunting challenges bring out the best in people. And that's what Corporate Knights found when we went looking for the Future 50 – Canada's fastest-growing sustainable companies.
Our objective was to identify outstanding Canadian entrepreneurs and companies that are gaining significant traction in the fight against carbon – with exciting new solutions that most of the world hasn't discovered yet. The result: a power-packed list of companies whose products and services bring bold new ideas to the sustainability front – and raise hopes that we can win the climate war.
These game-changing innovators include Calgary-based Eavor Technologies, which has a system to produce geothermal energy almost anywhere in the world, using looped water streams that tap the heat deep underground to augment solar- and wind-powered electrical grids.
Toronto-based Hydrostor has another plan for augmenting wind and solar grids, to free utilities from fossil-based backups such as natural gas and nuclear. Hydrostor uses off-peak energy to heat utility-scale quantities of compressed air, which is stored in underground chambers until peak energy demand requires the air to drive a turbine again.
In Squamish, B.C., Carbon Engineering – founded by a Harvard professor – has created technologies to suck carbon dioxide right out of the atmosphere, for underground storage or processing into synthetic fuels. Bill Gates is an investor.
Oneka Technologies, founded by entrepreneur Dragan Tutic in Sherbrooke, Quebec, at age 23, brings affordable drinking water to coastal communities with scalable desalination systems, sustainably powered by ocean waves.
And one of the women leading the cleantech charge in Canada is electrical engineer Miriam Tuerk. Her company Clear Blue Technologies is bringing light and wireless service to remote regions through "smart" off-grid wind and solar systems.
What's most remarkable about the Future 50 is the many different business niches they represent: from green economy basics such as renewable energy, biofuels and batteries to sustainable products ranging from vegan butchers to low-carbon cement, as well as innovative services ranging from climate-monitoring satellites to a green taxi company.
The Future 50 should reassure those who worry the green energy transition will drag us back to a pre-industrial stone age. The list's sheer variety confirms climate experts' contention that net-zero will create infinite opportunities for entrepreneurs and inventors with vision, grit and persistence.
Pioneering has always been long, hard work. Dig into almost any firm on this list and you'll find scrappy entrepreneurs who have laboured for years in the shadows, slowly developing their theories and prototypes, waiting impatiently for investors and customers to embrace change.
"We're now at an inflection point," says one Future 50 CEO, James Larsen of e-Zinc, a Toronto company whose zinc-based technology creates utility-scale batteries with storage power measured in days rather than hours.
The Future 50, like other green leaders around the world, are being powered by a confluence of events. First, new technologies (such as AI, nanotech, cloud computing and advanced materials) are coming together in innovative combinations to generate solutions that weren't possible even a decade ago.
Next, the leading Future 50 entrepreneurs report there's no shortage of capital for promising environmental solutions. At e-Zinc, for instance, which just raised US$25 million, Larsen is confident he can raise another $100 million or more – and still be able to choose investors who will add technology expertise and customer connections, not just cash. Because the secret sauce propelling many of these upstart innovators is the growing willingness of big companies to partner with them to co-create ground-breaking climate solutions.
Still, most of these companies are works in progress, their ultimate fates unpredictable. In publishing this list, Corporate Knights makes no promises about their prospects, or their suitability for investment. Innovation doesn't work that way. But the future depends on their success.
How did we find the Future 50?
Corporate Knights used two different but complementary criteria to determine which companies made the Future 50. We drew from 1,100 publicly listed and 4,015 privately owned companies headquartered in Canada and determined the ones that earn the majority of their revenues from clean energy themes (including energy efficiency), according to the Corporate Knights Clean Taxonomy. The public companies were then ranked according to their one-year revenue growth rates (generally, 2021 sales over 2020 sales). For privately held companies, Corporate Knights tapped the S&P Capital IQ database, with data on recent fundraising rounds, and sorted them based on percentage growth of capital raised from the two most recent years of fundraising rounds. This enabled us to identify qualifying companies that are still "pre-revenue" – giving us early access to new ventures. From this, we pulled out the top 25 private and 25 public companies that earn the majority of their revenue from clean energy themes to form our Future 50
Alberta Innovates is the launch partner for the Future 50.
Top 25 fastest-growing publicly traded companies

13. Clear Blue Technologies
Growth rate: 103%
You can't connect every corner of the world to centralized power grids. Enter Clear Blue Technologies, which develops "smart" off-grid power systems, marrying solar- and wind-powered equipment with the software to remotely monitor and control it. Clear Blue's energy-as-a-service model, mainly for lighting and telecommunications, provides sustainable, affordable power in remote areas and developing countries where grid-based connectivity is problematic or cost-prohibitive. The Toronto-based firm manages thousands of systems in 37 countries, from "smart" pathway lights in Ontario's Niagara Escarpment region to supermarket parking-lot lighting in the United States and telecom services in sub-Saharan Africa.
As telcos face growing pressure to provide universal connectivity, Clear Blue ensures consistent service and maximum uptime by giving customers a full slate of remote management controls, says CEO Miriam Tuerk. "You'd never buy or build a telecom network without those management tools, and you need to do the same thing for power."