FORBES: Renewable Energy Soars As Exxon, Shell Falter
2021/07/09
Media Coverage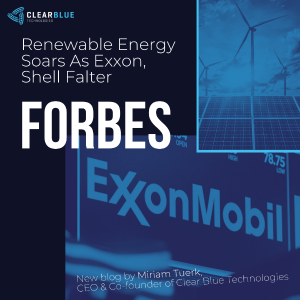 As many know, Big Oil companies have suffered major losses as a result of the pandemic, as oil demand plummeted. Now, however, the prospects for the industry are looking more dismal than ever. As oil supermajors have faced increasing pressure to shift toward more sustainable business strategies, such pressure will certainly result in companies looking to renewables as the solution to this shift.

Recently, both Exxon Mobil and Royal Dutch Shell were hit with critical climate-related decisions. A Netherlands court ruled that Shell must drastically reduce its emissions this decade in what was "the first time a court ordered a private company to, in effect, change its business practice on climate grounds." This was a seminal moment that will greatly benefit the clean technology space, leading it to become the norm, and no longer the alternative source for power in society.

Engine No.1, an activist hedge fund, nominated a slate of four candidates for the Exxon board, three of which were ultimately elected. What's significant about that? Well, Engine No.1's candidates were backed by major institutional investors including the United States' largest pension funds and BlackRock, the world's largest investment management company.

Institutional investors pushing a shift in Exxon's climate strategy sends a strong signal to the fossil fuel industry that they can no longer abdicate their responsibility to sustainable investment. So, what happens when Big Oil fails? Clean technology and renewable energy rise up to replace it. The demand for renewable energy solutions is continuing to increase and will ultimately be more heavily relied on.

So, What Does This Mean?