Forbes: Clean Tech Year In Review - Key Takeaways From a Challenging Year In The Market
2022/12/07
Media Coverage
Brendan Ross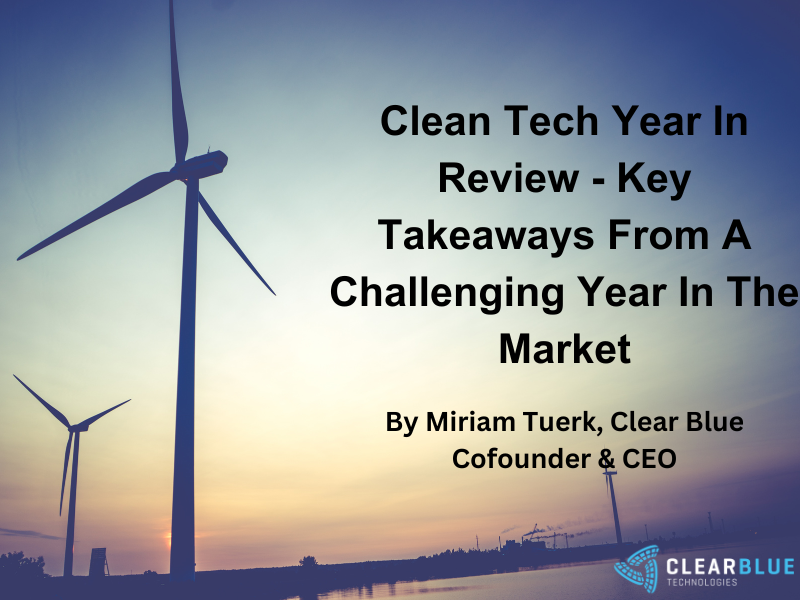 As the year draws to a close, let's take a look at what 2022 has brought for clean tech. By looking at the recent struggles at the major tech platforms, one can easily see how 2022 was a difficult year for all things tech names. In spite of the challenging economic climate, there were positive trends that contributed to the growth of clean tech.
The Effect of IRA
The 2022 U.S. Inflation Reduction Act (I.R.A.) will give clean tech a strong boost. The $30 billion extension of the Investment Tax Credit (ITC) can be expected to strongly increase the deployment of solar installations across the United States. Since it was first implemented in 2006, the ITC has helped fuel growth in the US solar industry by 200x. Though it is difficult to quantify the effects of the IRA yet, we can certainly expect to see growth in the deployment of solar and other clean technologies across the U.S. from this act.
Oil Price Volatility and a Green Shift in the Telecom Sector
In 2022, emerging markets increased their reliance on clean energy solutions. 2022 has been an extremely volatile year for oil prices. Post-pandemic demand for oil outstripped the low global supply, resulting in a surge in prices. Following Russia's initial attack on Ukraine, world leaders rushed to reduce their dependence on Russian oil. Such volatility in the oil market ultimately brought increased investment in clean tech solutions.
With many telecom operators in emerging markets relying on diesel, volatile oil prices were cause for concern in the industry. Ultimately, the rising price and continued volatility of diesel have caused major telecom players to seek out alternative solutions for their projects. The uncertainty of diesel prices is pushing the telecom market toward off-grid, clean solutions in their effort to connect the unconnected.
Meanwhile, solar panel prices have continued to decline in 2022. As expected, solar deployment has increased as the cost of panels has gone down historically. Global telecom operators need a reliable, low-cost source of energy. So, with oil prices seeming increasingly volatile and solar prices in decline in 2022, the telecom industry is increasingly choosing solar.
Electric Vehicles Crossing the Chasm
In 2022, the United States became the 19th country where 5% of new car sales were electric vehicles, a number that many believe is the critical threshold for mass adoption. In a previous blog post, we discussed how early-stage technologies see slow growth before reaching a tipping point and crossing into mainstream adoption. According to Bloomberg, 5% is the key tipping point for EVs. Historically, once a country's new car sales reach this threshold, the mainstream follows suit, and adoption soars. EVs appear to be on the cusp of mass adoption, which is a positive sign for clean tech.
Cloud Solutions - A Growth Opportunity for Clean Tech
Also, in a previous blog post, we discussed how clean tech solutions are shifting to the cloud to reduce costs and increase reliability. By looking at the Bessemer Cloud index (NASDAQ: EMCLOUD), we can see that cloud software solutions are performing relatively well in the market, which is ultimately a very positive sign for cleantech. As clean tech innovators incorporate software into their solutions, they should see growth.
The Canadian Clean Tech Market
Finally, the Canadian clean tech market presents a major opportunity for investors. There are many early-stage companies whose disruptive innovations will be critical in the energy transition. Take a look at the Globe and Mail Top Growing Companies and Deloitte Fast Technology 50 lists for Canadian clean tech companies to watch in the market.
Ultimately, 2022 showed a strong trend of large asset managers investing in climate tech investment. Institutional investors are making meaningful investments in renewables which will help accelerate the energy transition. Private family offices, such as the Creo Syndicate, are also focusing their investments on climate change. Private family offices are important because they typically have more consistent investment strategies than public institutional investors.
2022 showed several really positive signs for clean tech amidst an otherwise dismal year for the market. Considering these trends, it is no longer a question of whether clean energy is adopted but just how quickly.