Clear Blue Technologies Wins 12 New Solar Lighting Projects in Ontario in 2018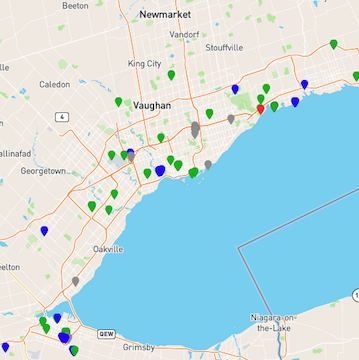 Represents 515% Increase in Revenue and Over 300% increase in Units YTD in the Province
October 29, 2018, Toronto, ON –Clear Blue Technologies International Inc. ("Clear Blue") (TSXV:CBLU), today announced it has won 12 new projects in Ontario this year for its Illumient Smart Off-Grid lighting, exceeding its 2018 projections for installations in the province. Revenue from sales in Ontario YTD are 515% higher than in all of 2017, and the number of lighting systems increased by over 300%.
To date, 18 municipalities in Ontariohave installed Illumient lighting systems, for a variety of uses including roadways, downtown areas, residential streets, parks, and signage,at over 40 different locations.
"The global market for solar street lighting is projected to grow by over 23% CAGR over the next few years," said Miriam Tuerk, CEO and co-founder of Clear Blue. "The rate of projected growth in the Americas is close, at almost 20% CAGR, and also will be driven by the explosion of Internet of Things (IoT) devices that need to be powered. As an Ontario-based company, we are pleased by the growing number of municipalities in the province who are selecting our Smart Off-Grid lights for their critical lighting and IoT infrastructure."
With built-in communications, each Illumient solar-powered light is remotelymanaged, controlled and monitored over the internet, ensuring the highest reliability and low maintenance costs. In addition to lighting, these same systems can power security cameras and a wide variety of Internet of Things devices like WiFi hotspots, traffic counters, sensors, and more.
Some of the municipalities in Ontario using Clear Blue's Illumient Smart Off-Grid lighting are:
City of Toronto, including downtown business improvement areas (BIAs) like Koreatown, and residential streets in other parts of the city

Town of Pickering, where Illumient lights have been installed at three parks within the town, including a dog park, enabling residents to use them in the evening and throughout the year

City of Hamilton, where Illumient lights have been installed in multiple locations on streets, parks,

pathways

, and business parks. In 2016, the City of Hamilton was awarded the

Canadian Outdoor Lighting Project of the Year

.

Town of Ajax, lighting Paradise Park

Town of Welland, for sign lighting

Town of Whitby, to power a children's splash pad

City of Waterloo, to add lighting at the city's fuel station

West 5 in the City of London, for residential lighting in this visionary, sustainable community

Town of Milton, for bridge lighting

Town of Innisfil, to light a county road

Town of Oshawa, to light its information center

Clear Blue's Smart Off-Grid systems are installed in 8 Canadian provinces, more than 20 U.S. states,and in 34 countries around the world, powering street lights, telecom systems, security systems, Internet of Things devices, and other mission-critical systems.