Clear Blue Technologies' Smart Off-Grid Lights Illuminate Waterfront in Algonac, Michigan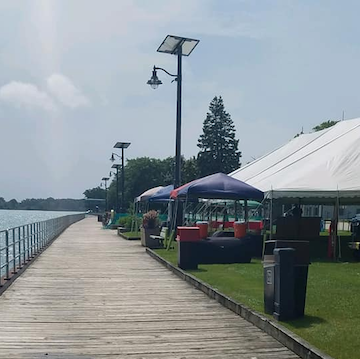 The $248K ($325K CAD) project included the purchase, installation, and remote management of 20 Illumient Smart Off-Grid street lights
November 7, 2018, Toronto, ON – Clear Blue Technologies International Inc.("Clear Blue") (TSXV: CBLU), the Smart Off-Grid™ company, is pleased to share that the installation of 20 Illumient solar-powered lighting systems along the bank of the St. Clair River in Algonac, Michigan has been completed. Clear Blue will also monitor and manage the new lights remotely using its Illumience cloud software.
"This project has been a long time in the making and we are thrilled with the final product,"said Anthony Theodorou, project manager of Project Control Engineering, municipal engineers for the City of Algonac. "Clear Blue's high quality lighting systems, combined with their advanced management system, are ideally suited to deliver high reliability in Algonac's northern climate. Alternative solutions were geared towards warmer climates, but Clear Blue was chosen for its versatility and ability to perform in colder, northern temperatures. The feedback from residents and visitors has been excellent, as the new lights enable them to enjoy the waterfront later into the evening and throughout the year."
"We are pleased that our Smart Off-Grid lighting was chosen by the City of Algonac for this important project," said Miriam Tuerk, CEO and co-founder of Clear Blue. "The project cost was lower than if they had used grid-connected lights, there are no ongoing utility charges, and the lights are a visible image of the community's commitment to sustainability. This is a good example of why the global solar street lighting market will reach $23 billion CAD in the next 5 years. 23% of that annual spending will be on projects in the Americas, similar to what Algonac has done. The fundamental economic savings of lower up-front capital costs and lower operating expenses are driving municipalities everywhere to adopt off-grid lighting."
Through built-in communications, each pole is connected to Clear Blue's cloud-based management software, Illumience. Utilizing Illumience, the lights will be remotely monitored, managed, and controlled, lowering maintenance costs while delivering high reliability. The motion sensors on the light poles, along with Ilumience's predictive weather analysis capabilities, will be used to preserve battery power and ensure lighting service in all seasons of the year.
The new lights represent an early stage of the City's plans to refurbish the boardwalk.Prior to this installation, 24 lighting poles had been situated along the waterfront since the 1970s. The previously installed poles had become known in the area for snapping off and flying into the boardwalk and river nearby. The quality of light itself was also insufficient, but Clear Blue's lighting will illuminate a greater area with just 18 poles, versus the previous 24. Two additional lights were installed at the entrance to the boardwalk, providing lighting there for the first time.