Clear Blue Technologies Receives 2014 Las Vegas M2M Evolution Business Impact Award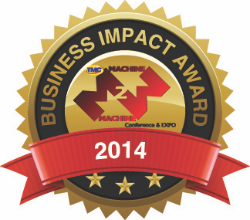 TORONTO, ON - August 21, 2014– Clear Blue Technologies, the Smart Off-Grid Company, announced today that it has received a2014 M2M Evolution Business Impact Awardsfrom TMC and Crossfire Media which was announced at the recent M2M Evolution Conference & Expo in Las Vegas, Nevada. The Business Impact Awards program recognized a select group of companies and business leaders who have successfully leveraged M2M and the Internet of Things (IoT) to solve a business issue, launch a new service or create revenue opportunities.

The Clear Blue system features solar and wind power controllers paired with advanced cloud-based software to deliver unmatched reliability and control of off-grid solutions such as street lights, security systems, mobile power and signage, electric charging stations and other applications. The company's Horizon cloud software lets owners remotely monitor and control their systems over the Internet, change lighting profiles in real time, run diagnostics and optimize power-management, and slashes the cost of maintenance by eliminating expensive service calls and enabling proactive maintenance. Data is streamed in real time to Horizon using the seamless global connectivity of the KORE network.

"Clear Blue is pleased to be recognized for our unique Smart Off-Grid capabilities, which is what differentiates our technology from other off-grid control systems," said Miriam Tuerk, Co-founder and COO of Clear Blue Technologies. "Real time information enables the remote monitoring and control that ensures the highest levels of reliability and performance, making solar and wind powered devices viable for even the most critical applications."

"The Business Impact Awards showcase the wealth of opportunity to be found in M2M and IoT technology across a broad range of industries and for a variety of business needs and applications," said Carl Ford, CEO, Crossfire Media, executive director of content, M2M Evolution. "We were impressed by the amount of innovation from Clear Blue Technologies and we look forward to seeing how these businesses will continue to leverage M2M and IoT in the future."

The Business Impact winners will be featured in the M2M eNewsletter and website.

About Clear Blue Technologies

Clear Blue Technologies, the Smart Off-Grid Company, combines green energy with the proven advantages of communications and cloud technology to power high performance off-grid lighting, security and mobile solutions. The company's hybrid controller harvests energy from solar panels and a wind turbine and is designed to be easily integrated into a variety of products to deliver highly reliable off-grid alternatives. The Horizon cloud-based software provides real time monitoring and control of the off-grid system over the Internet from any PC or smartphone, delivering unmatched reliability and performance. Clear Blue's Illumient division delivers high performance off-grid lighting systems.