Clear Blue Technologies Lights Up the City of Hamilton With Wireless Power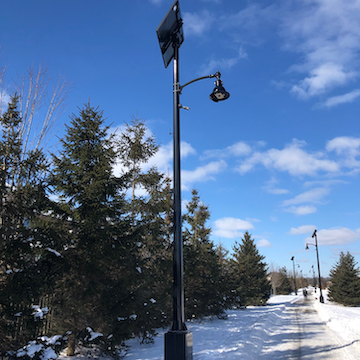 Illumient Smart Off-Grid lights now provide lighting in multiple areas of the city,while reducing costs and carbon emissions
April 04, 2019, Toronto, ON– Clear Blue Technologies International Inc. ("Clear Blue" or "the Company") (TSXV: CBLU) today announced its collaboration with Tymat Solutions ("Tymat") to illuminate pathways along Mohawk Road East and Eringate Park for the City of Hamilton, Ontario using Clear Blue's Illumient Smart Off-Grid lighting systems. These projects follow earlier installations in other areas in the City, validating the reliability and cost-effectiveness of Clear Blue's lighting systems.
In total, more than 60 Illumient lighting systems have been installed across the City of Hamilton, starting with an initial installation at Mountain Brow Boulevard along the Niagara Escarpment in 2015, as featured in this City of Hamilton video. Installed in the fall of 2018, 5 Illumient lights now illuminate a pedestrian sidewalk along a busy section of Hamilton's Mohawk Road East.
In the Eringate Drive area, 4 Illumient lights were installed in 2016 to illuminate a short, secluded residential pathway. For the second phase in 2018 - 2019, 12 additional lights were installed along that pathway's extension, which runs adjacent to an elementary school and park. Additional lights were installed at the Hamilton Business Park in late 2018.
"The installation of our Smart Off-Grid lights for projects across the City of Hamilton demonstrates how they are a commercially viable solution in urban environments," said Miriam Tuerk, CEO and co-founder of Clear Blue. "Connecting to the grid in cities is often costly as it requires digging up the pavement. Wireless power removes the cost of cabling and the need to disrupt existing infrastructure, while our Smart Off-Grid remote management ensures the highest reliability and keeps maintenance costs low."
"The attractive design and Smart City capabilities of Clear Blue's Illumient lights made them the perfect solution for these pathways," said Chris Dennis, Sales Representative at Tymat Solutions. "The lights improve safety for pedestrians at night, while motion detection and dimming capabilities save energy and reduce light pollution."
With Clear Blue's Illumient Smart Off-Grid solar lighting systems, the lights connect wirelessly to the Internet, sending real-time information to Clear Blue Technologies' cloud-based software, Illumience. This enables remote control, monitoring, and management of the lighting systems, ensuring high reliability and low maintenance costs. Illumience also allows service personnel to optimize lighting profiles, such as dimming the lights during periods of prolonged bad weather to preserve battery power, and also includes automated monitoring and alerts.
About Clear Blue Technologies International
Clear Blue Technologies International, the Smart Off-Grid™ company, was founded on a vision of delivering clean, managed, "wireless power" to meet the global need for reliable, low-cost, solar and hybrid power for lighting, telecom, security, Internet of Things devices, and other mission-critical systems. Today, Clear Blue has thousands of systems under management across 35 countries, including the U.S. and Canada. Clear Blue is publicly traded on the Toronto Venture Exchange under the symbol CBLU.
Media Contact:
Becky Nye
Senior Associate
Montieth & Company
155 E 44th St., New York, NY 10017
bnye@montiethco.com
+1 646.864.3517

Investor Relations:
Miriam Tuerk
Co-Founder and CEO
investors@clearbluetechnologies.com
http://www.clearbluetechnologies.com/en/investors