Clear Blue Technologies International Completes $1 Million First Tranche Equity Capital Raise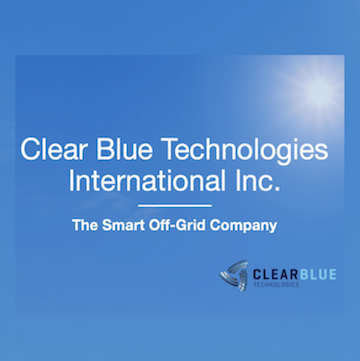 Additional $1.15 million in working capital provided by a Canadian Schedule I bank with the support of Export Development Canada
Toronto, ON, February 25, 2019– Today, Clear Blue Technologies International Inc. ("Clear Blue" or the "Company") (TSXV:CBLU) is pleased to announce that it has completed an initial tranche ("Initial Tranche") of a non-brokered private placement of units (each, a "Unit") at a price of $0.25 per Unit, for gross proceeds of $1,008,000 (all amounts are in Canadian dollars).
Additionally, the Company has closed on a $1,150,000 operating line and credit facility provided by a Canadian Schedule I bank with the support of Export Development Canada ("EDC").
Clear Blue is also working to secure additional research and development ("R&D") grant funding in 2019. The Company has previously been successful in obtaining R&D grants between $250,000 and $500,000 annually, and it is aiming to achieve a similar level of grant funding this year.
"The capital and grants should meet Clear Blue's financing needs through the next phase of our growth trajectory," says Miriam Tuerk, CEO and Co-Founder, Clear Blue. "The bank operating line with EDC's support also helps provide working capital flexibility to deliver on larger orders which will add to the growth in revenue that we anticipate in 2019. In addition, a number of key existing customers are expecting to undertake significant growth this year. We believe this foundation will serve us well for 2019."
"Supporting the growth of promising clean technology companies like Clear Blue is a priority for EDC," says Carl Burlock, Senior Vice-President of Financing and International Growth Capital at EDC. "We offer solutions to help these businesses achieve new levels of success in the international marketplace. With Clear Blue we are providing financial solutions, knowledge, and international connections to support their global growth goals."
The Company expects to complete additional tranches under the private placement for gross proceeds, together with the Initial Tranche, of up to $2,500,000 (the "Offering") within the next few weeks. Under the terms of the Offering, each Unit will be comprised of one common share of the Company and one common share purchase warrant of the Company. Each warrant will be exercisable at a price of $0.50 per share for a period of 36 months following the closing. The warrants will be subject to accelerated expiration if the 10-day volume weighted average trading price of the Company's common shares is, at any time, greater than $0.80 per share. The Offering is subject to final approval from the TSX Venture Exchange.
The Company will pay aggregate finder's fees of $51,485 in cash and will issue 261,940 common share compensation options (the "Compensation Options") to compensate finders who introduce purchasers in the Initial Tranche of the Offering. Each Compensation Option is exercisable to acquire one common share of the Company at an exercise price of $0.50 per common share for a period of 36 months from the date of issuance, and will be subject to accelerated expiration if the 10-day volume weighted average trading price of the Company's common shares is, at any time, greater than $0.80 per share.
Lawrence Tjan, the Chief Financial Officer of the Company, subscribed for 100,000 Units under the Initial Tranche of the Offering for aggregate cash consideration of $25,000. The participation of Mr. Tjan in the Offering constitutes a related party transaction under the Canadian Multilateral Instrument 61-101 ("MI 61-101"), but is otherwise exempt from the formal valuation and minority approval requirements of MI 61-101.
The securities issued under the Offering will be subject to a four-month hold period in accordance with applicable securities legislation.
About Clear Blue Technologies International
Clear Blue Technologies International, the Smart Off-Grid™ company, was founded on a vision of delivering clean, managed, "wireless power" to meet the global need for reliable, low-cost, solar and hybrid power for lighting, telecom, security, Internet of Things devices, and other mission-critical systems. Today, Clear Blue has thousands of systems under management across 35 countries, including the U.S. and Canada.
About EDC
Export Development Canada (EDC) is a financial Crown corporation dedicated to helping Canadian companies of all sizes succeed on the world stage. As international risk experts, we equip Canadian companies with the tools they need – the trade knowledge, financing solutions, investments, insurance, and connections – to take on the world with confidence. Underlying all our support is a commitment to sustainable and responsible business.
For more information and to learn how we can help your company, call us at 1-888-434-8508 or visit www.edc.ca.
Legal Disclaimers

This news release does not constitute an offer to sell, or a solicitation of an offer to buy, any of the securities in the United States. The securities have not been and will not be registered under the United States Securities Act of 1933, as amended (the "U.S. Securities Act") or any state securities laws and may not be offered or sold within the United States or to U.S. Persons unless registered under the U.S. Securities Act and applicable state securities laws or an exemption from such registration is available.

Neither TSX Venture Exchange nor its Regulation Services Provider (as that term is defined in the policies of the TSX Venture Exchange) accepts responsibility for the adequacy or accuracy of this release.
Forward-Looking Information and Statements

This press release contains certain "forward-looking information" within the meaning of applicable Canadian securities legislation and may also contain statements that may constitute "forward-looking statements" within the meaning of the safe harbor provisions of the U.S. Private Securities Litigation Reform Act of 1995. Such forward-looking information and forward-looking statements are not representative of historical facts or information or current condition, but instead represent only Clear Blue's beliefs regarding future events, plans or objectives, many of which, by their nature, are inherently uncertain and outside of Clear Blue's control. Generally, such forward-looking information or forward-looking statements can be identified by the use of forward-looking terminology such as "plans", "expects" or "does not expect", "is expected", "budget", "scheduled", "estimates", "forecasts", "intends", "anticipates" or "does not anticipate", or "believes", or variations of such words and phrases or may contain statements that certain actions, events or results "may", "could", "would", "might" or "will be taken", "will continue", "will occur" or "will be achieved". The forward-looking information contained herein may include, but is not limited to, information concerning the Offering (including the completion of the Offering), the use of the proceeds raised under the Offering, the use of proceeds under the operating line of credit facility and the securing of future R&D funding.

By identifying such information and statements in this manner, Clear Blue is alerting the reader that such information and statements are subject to known and unknown risks, uncertainties and other factors that may cause the actual results, level of activity, performance or achievements of Clear Blue to be materially different from those expressed or implied by such information and statements.
Media Contact:
Becky Nye
Senior Associate

Montieth & Company12 E 49thSt., New York, NY 10017
bnye@montiethco.com
+1 646.864.3517
Investor Relations:
Miriam Tuerk
Co-Founder and CEO
+1 (855) 733-0119 x200
investors@clearbluetechnologies.com
http://www.clearbluetechnologies.com/en/investors