Clear Blue Technologies International Appoints Director of Corporate Development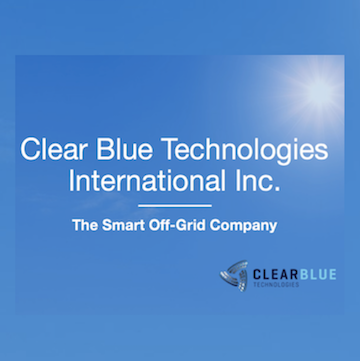 Christina Boyd will manage investor relations initiatives at the Smart Off-Grid company
October 2, 2018, Toronto, ON – Clear Blue Technologies International (TSXV: CBLU), the Smart Off-Grid™ company, today announced the appointment of Christina Boyd as its director of corporate development. Ms. Boyd will work under the supervision of senior management of the company and will have responsibility for investor relations and to raise Clear Blue's profile in the investor community.
Miriam Tuerk, CEO and co-founder, Clear Blue stated: "We are pleased to welcome Ms. Boyd to Clear Blue. Her experience in leading strategic initiatives at a TSX-V company, as well as her many years spent covering the world of business and capital markets as a producer for BNN and Bloomberg, lends itself well to engaging with our investors as we continue to grow our market share."
Prior to joining Clear Blue, Ms. Boyd was director of corporate development at UGE International (OTCMKTS: UGEIF), a solar energy company for the commercial and industrial sectors, where she played a lead role in strategic initiatives, including driving investor relations and stakeholder outreach.
Ms. Boyd began her career as a television producer covering capital markets forBNNand Bloomberg. This gave her insight into the growth of clean tech in Canada from the perspective of the world's top business leaders, economists, policy makers and innovators. Christina also has a bachelor's degree in commerce from Ryerson University, and studied international business at Hogeschool Holland in the Netherlands.
Ms. Boyd's first day at the company was Monday, October 1, 2018. She will be based at the company's headquarters in Toronto, Ontario. Ms. Boyd's compensation will be a combination of cash and incentive stock options.
About Clear Blue Technologies International:
Clear Blue Technologies International, the Smart Off-Grid™ company, was founded on a vision of delivering clean, managed, "wireless power" to meet the global need for reliable, low-cost, solar and hybrid power for lighting, telecom, security, Internet of Things devices, and other mission-critical systems. Today Clear Blue has thousands of systems under management across 34 countries, including the U.S. and Canada.