Clear Blue Technologies, Facebook, and Telefonica Announce OpenCellular-Power Progress at TIP Summit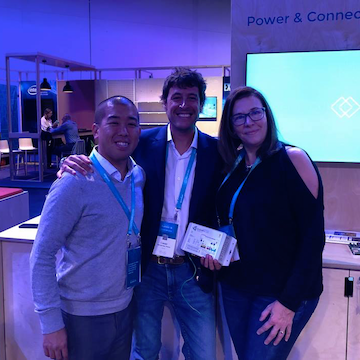 Speakers will share results of OpenCellular-Power projects as a part of the Telecom Infra Project's reimagining of internet infrastructure
October 16, 2018, Toronto, ON – Today, Miriam Tuerk, CEO and co-founder of Clear Blue Technologies International Inc.("Clear Blue") (TSXV:CBLU), the Smart Off-Grid™ company, Jamie Yang, power and connectivity project group co-chair at Facebook, and Cesar Hernandez-Perez, manager of strategic projects and investments at Telefonica, will share the results of projects using Open-Cellular Power (OC-Power) at the 2018 TIP Summit in London.
TIP is an initiative co-founded in 2016 by Facebook, SK Telecom, Intel, Nokia, and Deutsche Telekom, to accelerate the pace of innovation in the telecom industry and improve connectivity for a billion people worldwide. In just two years, TIP has grown to include over 500 organizations as members who are investing capital, resources, and expertise to develop and install entirely new and economically-viable telecom infrastructure for emerging markets.
OC-Power is the open-source power solution for TIP's OpenCellular wireless access platform, designed to deliver a highly-reliable, low-cost and easy to maintain power source. Clear Blue is jointly developing the Smart Power Management API for OC-Power with Facebook. The Smart Power Management API will define the interface to smart management systems, such as Clear Blue's Illumience cloud software.
"There is a huge opportunity in the market to bring connectivity to billions of people, but it requires new technology and low-cost, managed power," said Miriam Tuerk. "We are excited to be working with Facebook and other TIP members to deliver the clean power system and remote management capability for TIP's OpenCellular telecoms solution. We have already demonstrated success through collaboration with Facebook and other TIP members on projects in Latin America and sub-Saharan Africa."
Connecting the unconnected
Clear Blue has already delivered its Smart Off-Grid technology for telecom projects in both Latin America and Africa:
Clear Blue will also launch an OC-Power addition to its Illumience Smart Off-Grid management service, which today controls, manages and proactively services off-grid systems for telecom, lighting, security, the Internet of Things, and other critical infrastructure in 34 countries worldwide. The addition will enable advanced features including energy forecasting, comprehensive system management, control and alert capabilities to prevent outages and enable remote troubleshooting.
About Clear Blue Technologies International
Clear Blue Technologies International, the Smart Off-Grid™ company, was founded on a vision of delivering clean, managed, "wireless power" to meet the global need for reliable, low-cost, solar and hybrid power for lighting, telecom, security, Internet of Things devices, and other mission-critical systems. Today, Clear Blue has thousands of systems under management across 34 countries, including the U.S. and Canada.