Clear Blue Technologies Collaborates with Mobismart On Robust Mobile Off-Grid Power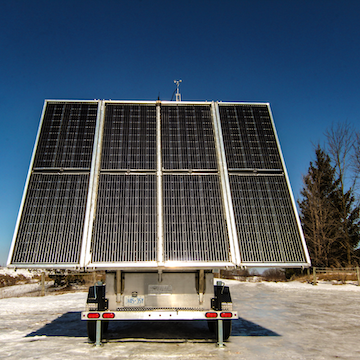 Clear Blue's Smart Off-Grid technology integrated into Mobismart's mobile off-grid solar and storage trailerized generators; Mobisun trailers provide cleaner, cheaper, and more reliable alternative to diesel generators especially in harsh and extreme conditions.
May 9, 2019, Toronto ON – Today, Clear Blue Technologies International ("Clear Blue") (TSXV:CBLU) (FRANKFURT: 0YA) announced its collaboration with Mobismart Mobile Off-Grid Power & Storage Inc. (Mobismart), to provide mobile, grid-free, robust power that displaces diesel generators on infrastructure and construction projects.
The fast growing global generator market is estimated to reach US$ 3.34 billion by 2025, and most of the market is driven by sales of diesel generators, according to a report from Transparency Market Research. Mobismart's mobile solar generating rugged, go-anywhere power trailers, called Mobisun, are used to power telecom tower systems, environmental testing equipment, communications, lighting, and security cameras in the construction, mining, oil and gas, renewable energy, and telecom industries.
Clear Blue's Smart Off-Grid technology provides the ability to remotely monitor, control, and manage the Mobisun generators, enabling high reliability and low maintenance costs. This remote monitoring software system, called Illumience, empowers service personnel to detect, prevent and resolve issues without having to go out into the field, through automated monitoring, alerts and remote control while also providing valuable power production and load usage data.
Irene Efston, Vice President, Marketing at Mobismart said: "Our mobile off-grid power systems have lower lifetime operating and maintenance costs than diesel generators, without the air and noise pollution. With Clear Blue's Smart Off-Grid remote management and control, operators don't have to go on-site to do regular maintenance, which is the case for diesel generators that need to be constantly refueled. This was crucial, as many of these sites are highly inaccessible and some can only be reached by helicopter."
"We think the global mobile/portable generator market is ripe for disruption," said Miriam Tuerk, CEO of Clear Blue. "Off-grid power is going to replace diesel generators in the long-run because the cost and inconvenience of refueling these generators is too great. The joint solution from Mobismart and Clear Blue addresses this large and growing market opportunity."
The joint solution is already operational, powering wind farm environmental testing equipment for RES (Renewable Energy Systems). Clear Blue's Illumience software enables the user to not only remotely monitor but also to control the Mobisun unit.
For example, to achieve optimal operating conditions for the system's batteries temperature is very important therefor when the internal temperature is detected to be below 15°C, a heater is switched on until the temperature is above 18°C; if the temperature is higher than 25°C an actuated duct damper opens and the duct fan turns on to pull the hot air out of the Mobisun cabin. Another feature is if the windspeed is above 110 kilometers per hour as read by the on-board anemometer, Clear Blue's Smart Off-Grid controller will command the heavy-duty actuators to retract to automatically bring the solar array down until the wind reaches a safer speed. These and other smart features are critical for reliability and ROI and are unique in the market to the Mobisun, developed as a result of the joint efforts of Clear Blue and Mobismart.
About Clear Blue Technologies International
Clear Blue Technologies International, the Smart Off-Grid™ company, was founded on a vision of delivering clean, managed, "wireless power" to meet the global need for reliable, low-cost, solar and hybrid power for lighting, telecom, security, Internet of Things devices, and other mission-critical systems. Today, Clear Blue has thousands of systems under management across 35 countries, including the U.S. and Canada. Clear Blue is publicly traded on the Toronto Venture Exchange under the symbol CBLU.
Media Contact:
Becky Nye
Senior Associate
Montieth & Company
155 E 44th St., New York, NY 10017
bnye@montiethco.com
+1 646.864.3517

Investor Relations:
Miriam Tuerk
Co-Founder and CEO
investors@clearbluetechnologies.com
http://www.clearbluetechnologies.com/en/investors
+1 (855) 733-0119 x200
Neither the TSX Venture Exchange nor its Regulation Services Provider (as that term is defined in the policies of the TSX Venture Exchange) accepts responsibility for the adequacy or accuracy of this release.