Clear Blue Technologies Announces Management and Board Changes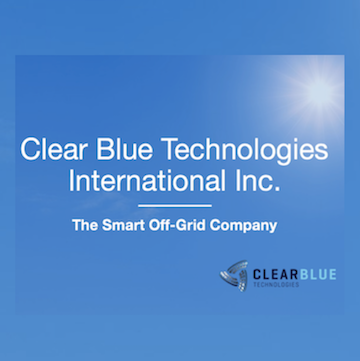 June 17, 2019, Toronto, Ontario – Clear Blue Technologies International Inc. (Clear Blue or "the Company") (TSXV: CBLU) (FRANKFURT: 0YA), the Smart Off-Grid™ company, today announced the departure of Chief Financial Officer, Lawrence Tjan, from the Company. Paul Kania, CPA, will serve as the interim Chief Financial Officer with immediate effect.
Paul is a principal at PLK Accounting & Finance, which provides retainer CFO and board services for publicly listed small-cap companies. He has over 13 years of experience in accounting and finance, having begun his career as an auditor, working for firms such as MNP LLP and Berdon LLP, before moving on to corporate finance at Brookfield Asset Management in New York City. Clear Blue's management believes that his strong expertise in businesses that are similar to Clear Blue will be a valuable resource to the Company.
The Company also announced that independent board member and audit committee chair Hugh Rogers has resigned to enable him to spend more time on another venture. Miriam Tuerk, Clear Blue CEO, said "Hugh has been a great asset to Clear Blue and we appreciate his contributions to our business. We wish him great success in his new venture."
About Clear Blue Technologies Inc.
Clear Blue Technologies International, the Smart Off-Grid™ company, was founded on a vision of delivering clean, managed, "wireless power" to meet the global need for reliable, low-cost, solar and hybrid power for lighting, telecom, security, Internet of Things devices, and other mission-critical systems. Today, Clear Blue has thousands of systems under management across 35 countries, including the U.S. and Canada. Clear Blue is publicly tradedon the Toronto Venture Exchange under the symbol CBLU. Learn more at www.clearbluetechnologies.com.
Legal Disclaimer
Neither the TSX Venture Exchange nor its Regulation Services Provider (as that term is defined in the policies of the TSX Venture Exchange) accepts responsibility for the adequacy or accuracy of this release.
Media Contacts:
Becky Nye
Director, Montieth & Company/North America
bnye@montiethco.com
+1 646 864 3517

Zarna Patel
Director, Montieth & Company/EMEA
zpatel@montiethco.com
+44 (0)20 3865 1947

Investor Relations:
Miriam Tuerk
Co-Founder and CEO
+1 (855) 733-0119 x200

investors@clearbluetechnologies.com
http://www.clearbluetechnologies.com/en/investors