Clear Blue Technologies and NuRAN Wireless Win Contract to Power Rural Telecom for Orange in Cameroon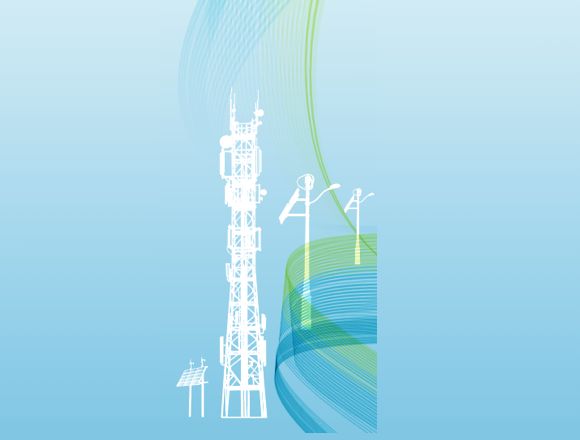 Multi-year contract valued at approximately C$1.45M; Phase 1 will commence delivery in Q4 2020
October 28, 2020, Toronto, ON – Clear Blue Technologies International Inc. (TSXV: CBLU) (FRANKFURT: 0YA) ('Clear Blue'), a provider of Smart Off-Grid power solutions for telecom, today announces an agreement with NuRAN Wireless Inc. ('NuRAN'), a leading supplier of mobile and broadband wireless infrastructure solutions. NuRAN and Clear Blue will provide Rural Telecommunications systems and ongoing operational services in Cameroon to Orange S.A. (NYSE: ORAN), one of the world's largest mobile network operators.
Clear Blue will provide its Smart Off-Grid solar-powered telecom solution as part of the 'Network-as-a-Service' ('NaaS') project. Phase 1 roll-out across 120 sites will take 12 months, commencing in Q4 2020.
The initial contract value for Clear Blue's participation in Phase 1 is approximately $650K CAD. The rollout is expected to begin in early 2021 once final financing contracts are executed. Subsequent phases planned for Year 2 and Year 3 of roll-out are valued at an additional estimated $800K CAD combined for Clear Blue, bringing the total contract value to $1.45M CAD. Clear Blue's ongoing Illumience management services will be provided to NuRAN on an ongoing basis.
"Clear Blue's Smart Off-Grid technology with its unique and critical predictive analytics capabilities, offers the lowest up-front cost, lower ongoing costs and the best power availability due to its remote monitoring and power management services," said Francis Letourneau, CEO of NuRAN.
NuRAN's NaaS facilitates network expansion for telecommunications operators by building and managing the ongoing operations and maintenance of cellular sites. These sites are then monetized by providing connectivity as an ongoing service for the mobile operator. NuRAN facilitates this NaaS model by leveraging its carrier-grade mobile network infrastructure solutions, its extensive expertise in the building of cost-effective cellular infrastructure and by collaborating with Clear Blue, an expert in ongoing managed Energy-as-a-Service. Together, the team can set up network operations from the ground up with a better return on investment, which reduces costs for rural telecommunications operators.
Added Letourneau: "NuRAN is operating these rural telecom systems as an ongoing service and so it is critical that we have reliable, managed power for our systems. Clear Blue's Energy-as-a-Service solution is a key to our partnership because it reduces overall costs while maintaining this reliable power for a strong, viable and profitable business model. Clear Blue has a proven track record of delivering in previous projects worldwide, and NuRAN is pleased to work with Clear Blue on this exciting initiative."
Miriam Tuerk, CEO of Clear Blue concluded: "Clear Blue's goal to facilitate global connectivity continues through strong partnerships with telecom integrators and mobile network operators like NuRAN and Orange Cameroon respectively. These partnerships help drive economic prosperity and enable the future of connectivity for all. We look forward to expanding this partnership with NuRAN, as a leader in rural telecommunications, to other African countries in critical need of connectivity."
About Clear Blue Technologies International
Clear Blue Technologies International, the Smart Off-Grid™ company, was founded on a vision of delivering clean, managed, "wireless power" to meet the global need for reliable, low-cost, solar and hybrid power for lighting, telecom, security, Internet of Things devices, and other mission-critical systems. Today, Clear Blue has thousands of systems under management across 34 countries, including the U.S. and Canada. Clear Blue is publicly traded on the TSX-V under the symbol CBLU and on the Frankfurt Stock Exchange under the symbol FRANKFURT: 0YA.
About Nuran
NuRAN Wireless is a leading supplier of mobile and broadband wireless infrastructure solutions. Its innovative radio access network (RAN), core network, and backhaul products dramatically drop the total cost of ownership, thereby creating new opportunities for established, as well as emerging mobile network operators. Indoor coverage, isolated rural communities, offshore platforms and ships, NuRAN Wireless helps its customers reach everyone, everywhere.
About Orange
Orange is one of the world's leading telecommunications operators with sales of 42 billion euros in 2019 and 143,000 employees worldwide at 30 June 2020, including 84,000 employees in France. The Group has a total customer base of 253 million customers worldwide at 30 June 2020, including 208 million mobile customers and 21 million fixed broadband customers. The Group is present in 26 countries. Orange is also a leading provider of global IT and telecommunications services to multinational companies, under the brand Orange Business Services.
Orange is listed on Euronext Paris (symbol ORA) and on the New York Stock Exchange (symbol ORAN).
Legal Disclaimer
Neither TSX Venture Exchange nor its Regulation Services Provider (as that term is defined in the policies of the TSX Venture Exchange) accepts responsibility for the adequacy or accuracy of this release.
Forward-Looking Statement
This press release contains certain "forward-looking information" and/or "forward-looking statements" within the meaning of applicable securities laws. Such forward-looking information and forward-looking statements are not representative of historical facts or information or current condition, but instead represent only Clear Blue's beliefs regarding future events, plans or objectives, many of which, by their nature, are inherently uncertain and outside of Clear Blue's control. Generally, such forward-looking information or forward-looking statements can be identified by the use of forward-looking terminology such as "plans", "expects" or "does not expect", "is expected", "budget", "scheduled", "estimates", "forecasts", "intends", "anticipates" or "does not anticipate", or "believes", or variations of such words and phrases or may contain statements that certain actions, events or results "may", "could", "would", "might" or "will be taken", "will continue", "will occur" or "will be achieved". The forward-looking information contained herein may include, but is not limited to, information concerning the future phases of the project or future value of this project for any mentioned parties.
By identifying such information and statements in this manner, Clear Blue is alerting the reader that such information and statements are subject to known and unknown risks, uncertainties and other factors that may cause the actual results, level of activity, performance or achievements of Clear Blue to be materially different from those expressed or implied by such information and statements.
An investment in securities of Clear Blue is speculative and subject to several risks including, without limitation, the risks discussed under the heading "Risk Factors" in Clear Blue's listing application dated July 12, 2018. Although Clear Blue has attempted to identify important factors that could cause actual results to differ materially from those contained in the forward-looking information and forward-looking statements, there may be other factors that cause results not to be as anticipated, estimated or intended.
In connection with the forward-looking information and forward-looking statements contained in this press release, Clear Blue has made certain assumptions. Although Clear Blue believes that the assumptions and factors used in preparing, and the expectations contained in, the forward-looking information and statements are reasonable, undue reliance should not be placed on such information and statements, and no assurance or guarantee can be given that such forward-looking information and statements will prove to be accurate, as actual results and future events could differ materially from those anticipated in such information and statements. The forward-looking information and forward-looking statements contained in this press release are made as of the date of this press release. All subsequent written and oral forward- looking information and statements attributable to Clear Blue or persons acting on its behalf is expressly qualified in its entirety by this notice.
Investor Relations:
investors@clearbluetechnologies.com
http://www.clearbluetechnologies.com/en/investors
Miriam Tuerk
CoFounder & CEO
Miriam@clearbluetechnologies.com
+1-416-433-3952
Press Contact
Becky Nye
Director
Montieth & Company
12 E 49th St., New York, NY 10017
bnye@montiethco.com