BLOG POST: From Analog to Digital – How Smart Off-Grid Uses Advanced Technology to Make Solar Power Easier and More Reliable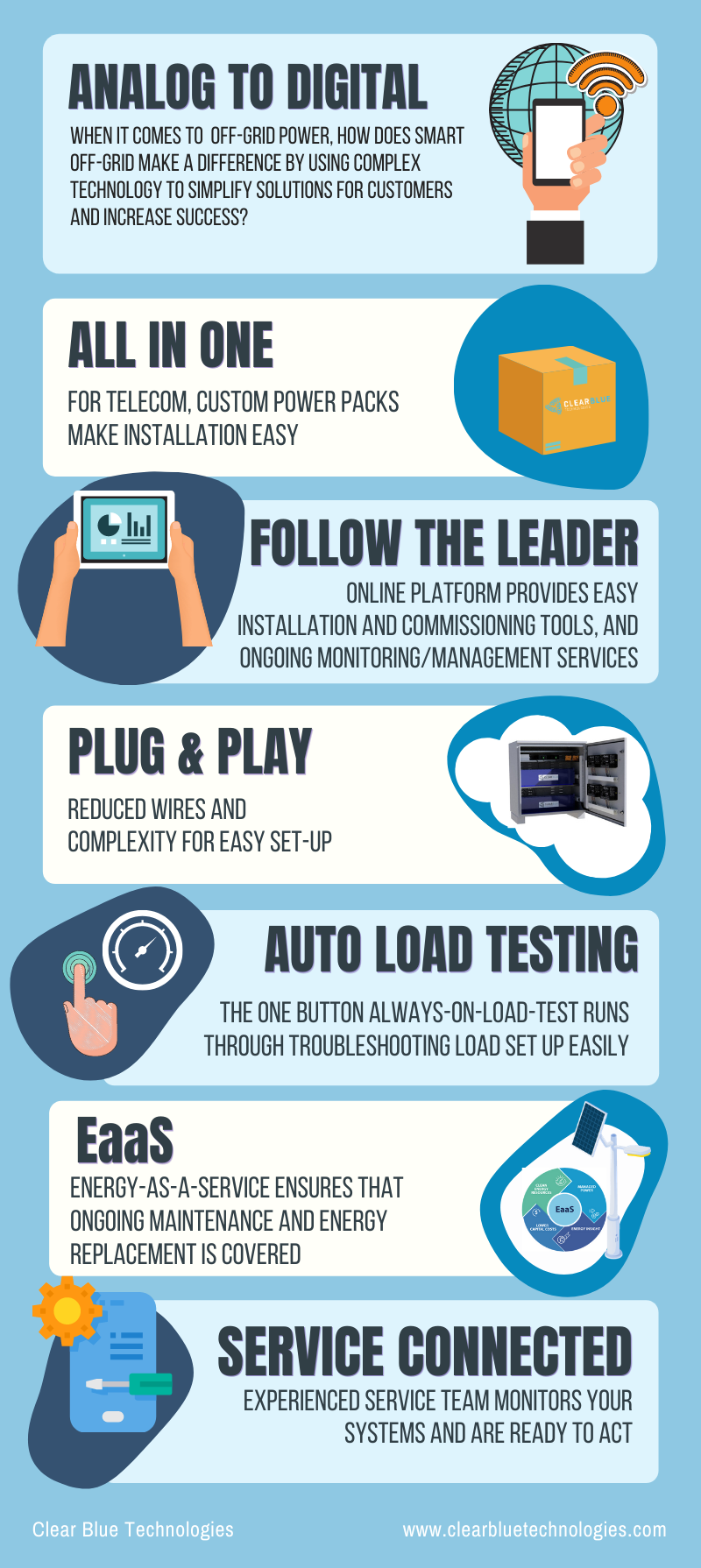 Off-grid power can provide valuable benefits both from a cost perspective and a reliability standpoint. In telecom, IoT, or other areas, many will have either experienced or heard stories of systems that failed to deliver. The application of Smart Off-Grid solves the challenges that have driven poor performance and makes off-grid power more reliable, longer lasting and easier to use. It also lowers costs by using complex predictive analytics, cloud, and next-generation power technology to simplify the systems for customers. It's easy from installation to troubleshooting, to ongoing energy and power management with uptime consistency.
Let's see how Smart Off-Grid Power can make a difference.
All in One
When it comes to innovative technology, businesses are busy and need the easiest solutions to implement. Smart Off-Grid, integrated with a fully designed and integrated power solution that comes from one source, eliminates the need for customers to be expert designers of energy sizing and power configurations. Whether it's for lighting, telecom power, or IoT solutions, it's best to find a vendor that is an expert in power and energy systems design, so you can have a properly engineered power solution. This means that you can get the full smart power system with batteries, solar panels, mounting equipment, and cabinetry for your telecom power solution all in one place. It also means that the vendor has taken care of the energy and power engineering design and has provided quality high-performance components that are designed to work effectively together without issues. And more importantly, the system is designed and configured to deliver the needed power and energy levels that the customer needs.
Follow the Leader
Have you ever tried to design and assemble a system with complex technology? What makes Smart Off-Grid so unique is that it uses predictive analytics and real-world field data to design and operate innovative complex power and energy systems. Smart power electronics ensure that your system can be installed and connected without issue. With the right online software and tools, the installer doesn't need any expensive training to install the product. This gives you more options for installation and a greater likelihood of success.

Plug & Play
The assumption that complex technology requires advanced, expensive, and supremely qualified personnel to install and commission is being challenged by Smart Off-Grid power. Installing breakers, relays, and distribution panels are how previous generations built their systems – using mechanical devices. With next-generation Smart Off-Grid, power connections become digital, and the number of wires, fuses, and connectors is reduced to a minimum with a well-designed system that is as 'plug and play' or simple to install as possible. For telecom solutions, all components fit in a well-designed cabinet and have a designated space with minimal wiring needed. Fuses and controls are now controlled digitally. Systems come with industrial-grade, simple clickable connectors that are color-coded and keyed to ensure that they are correctly connected without the need for any training or specialized skills by the installer.

One Button for Troubleshooting Commissioning
When setting up an off-grid solar power system, difficulties arise that are tricky to solve if the installer doesn't have the right expertise or the right diagnostic functionality in the electronics. This is why Smart Off-Grid systems are designed to provide unparalleled troubleshooting tools and indicators thereby enabling easy installation regardless of connectivity status or installer experience. During installation and commissioning, occasionally events may occur that prohibit commissioning. These could include the load not being able to start up, the system being wired incorrectly, low battery charge, or there is a fault on the system that inhibits solar energy generation, battery charging, or powering the load.

With Smart Off-Grid, automated tests identify faults, automatically troubleshoot issues, and automatically clear problems like short circuits. A simple example is a short circuit multi-try – a function that is configured to meet the specific criteria of the load and when shorts occur, it then tries to clear faults by making small changes and opening the circuit. This happens automatically, often within a few seconds, and the loads automatically come online with the short circuit problem cleared. Other functions such as the system's automated 'always-on-load-test' module for installation and commissioning, troubleshooting is easy for the installer to use and every component and connection can be easily tested before leaving the site. Using a smartphone via local Wi-Fi or through the cloud, the installer can access all of this functionality, ensuring the system is 100% fully operational.
EaaS
You may be considering off-grid power, but may wonder how reliable it is. How will you ensure your batteries don't die? In addition to high uptime availability, system life is one of the biggest challenges of solar-powered off-grid systems. These issues are eliminated when Smart Off-Grid systems are coupled with expert ongoing management in the form of Energy-as-a-Service (EaaS). This ongoing subscription-based service provides clean, wireless, managed energy to power critical systems for a fixed annual service fee. EaaS takes the risk and responsibility for power system management, uptime performance, and system life off of the customer's hands.
Instead, Smart Off-Grid experts and service management teams, who manage thousands of systems around the world take care of this important function. This eliminates the need for customers to become power management experts. These Smart Off-Grid control and expert power management services take care of everything from off-grid energy generation, energy storage management (batteries), and full load management and control. Customers don't have to worry about managing the system for consistent and reliable power and they never have to think about replacing batteries as this is anticipated and fully covered under EaaS. It's the peace of mind that allows for easy incorporation of off-grid power for anyone from municipalities to telecom providers.
Service Connected
Service shouldn't just mean that you have someone to call when things break. Today, service must be proactive and preventative – preventing and anticipating problems, continually optimizing system performance, and remotely correcting issues in a cost-effective manner. With Smart Off-Grid power, the online, remote management of the power ensures that the service team can:

Anticipate and troubleshoot environmental impacts at the site;
Address and manage system aging effects and help customers make intelligent decisions about evolving power consumption needs - extra capacity for added loads, e.g., expanding telecom site capacity and transmit power, or managing the addition of Smart City functionality to existing streetlights;
Use patented predictive energy and weather forecasting to optimize site-specific profiles.
For reliable off-grid power that reduces your costs, while being easy to implement and manage, you need to make sure it's smart! Contact Clear Blue Technologies, the Smart Off-Grid Company to learn more about how to implement a smarter solution for your lighting, IoT, or telecom needs.
www.clearbluetechnologies.com