Ameresco Solar To Distribute Clear Blue Technologies' Smart Off-Grid Systems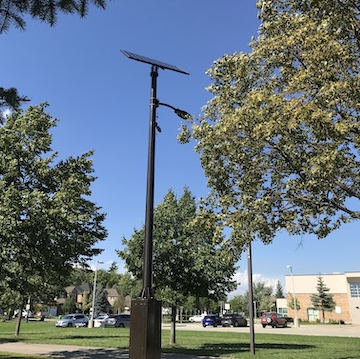 October 23, 2019, Toronto, ON – Clear Blue Technologies International Inc. (Clear Blue or "the Company") (TSXV: CBLU) (FRANKFURT: 0YA), the world's leader in wireless power, today announced that Ameresco Solar, a solar distribution company, will distribute Clear Blue's Smart Off-Grid systems in the North American market as a part of its off-grid solar solutions.
Ameresco Solar is a division of Ameresco (NYSE:AMRC), a leading renewable energy company and energy efficiency company offering energy solutions for public and private organizations in North America and the U.K.
"We believe wireless power is the ideal replacement for traditional grid-connected systems in North America as this aging infrastructure wears out," said Miriam Tuerk, Clear Blue CEO. "Our agreement with Ameresco sets us up to be able to capitalize on that evolution by providing a highly-reliable off-grid lighting solution to its customers through our Illumient system, which complements Ameresco Solar's products and services."
Colin Gates, Vice President Sales and Marketing, Ameresco Solar stated: "Through our agreement with Clear Blue, Ameresco is excited to offer a complete lighting solution with Illumient that enhances our existing solar off-grid solution through Smart Off-Grid controls. This state-of-the-art solution will give our customers enhanced visibility and reliability that is unparalleled in this industry."
The agreement includes Clear Blue's Illumient Smart Off-Grid lighting systems, the Smart Off-Grid Controller, and the Nano-Grid Power Packs, as well as Clear Blue's Energy-as-a-Service (EaaS) offering. With EaaS, Clear Blue experts manage the power systems for the customer, providing an unparalleled level of reliability to assure power delivery.
About Clear Blue Technologies International
Clear Blue Technologies delivers clean, managed, wireless power – anywhere and anytime. We use our patented Smart Off-Grid technology, delivered through our Energy-as-a-Service business model, to manage lighting, telecom, Internet of Things devices, and other critical systems around the world. Clear Blue has thousands of systems under management across 37 countries, including the U.S. and Canada. Clear Blue is publicly traded on the Toronto Venture Exchange under the symbol CBLU and on the Frankfurt Stock Exchange (FRANKFURT: 0YA). Learn more at www.clearbluetechnologies.com.
Media Contact:
Becky Nye
Director, Montieth & Company
+1 646.864.3517
Investor Relations:
Miriam Tuerk
CEO, Clear Blue Technologies
+1 416-433-3952
invest@clearbluetechnologies.com
http://www.clearbluetechnologies.com/en/investors
Legal Disclaimer
Neither the TSX Venture Exchange nor its Regulation Services Provider (as that term is defined in the policies of the TSX Venture Exchange) accepts responsibility for the adequacy or accuracy of this release.
About Ameresco, Inc.
Founded in 2000, Ameresco, Inc. (NYSE:AMRC) is a leading independent provider of comprehensive services, energy efficiency, infrastructure upgrades, asset sustainability and renewable energy solutions for businesses and organizations throughout North America and Europe. Ameresco's sustainability services include upgrades to a facility's energy infrastructure and the development, construction and operation of renewable energy plants. Ameresco has successfully completed energy saving, environmentally responsible projects with federal, state and local governments, healthcare and educational institutions, housing authorities, and commercial and industrial customers. With its corporate headquarters in Framingham, MA, Ameresco has more than 1,000 employees providing local expertise in the United States, Canada, and the United Kingdom. For more information, visit www.ameresco.com.
The announcement of a supplier's entry into a contract is not necessarily indicative of the timing or amount of revenue related to such contract or of the company's overall revenue for any particular period.