African Review: Clear Blue Technologies to deliver smart off-grid platform in Nigeria's rural areas
2018/02/26
Media Coverage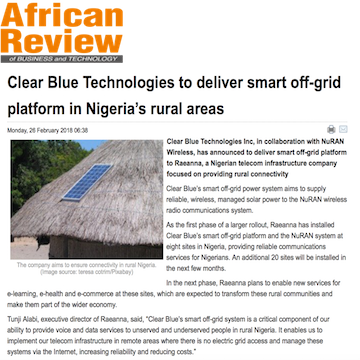 "Clear Blue Technologies Inc, in collaboration with NuRAN Wireless, has announced to deliver smart off-grid platform to Raeanna, a Nigerian telecom infrastructure company focused on providing rural connectivity.

Clear Blue's smart off-grid power system aims to supply reliable, wireless, managed solar power to the NuRAN wireless radio communications system.
As the first phase of a larger rollout, Raeanna has installed Clear Blue's smart off-grid platform and the NuRAN system at eight sites in Nigeria, providing reliable communications services for Nigerians. An additional 20 sites will be installed in the next few months." Read the article at African Review.