9mobile's Network Expansion: Raeanna and Clear Blue Technologies To Deliver Proof-of-Concept For 2G-3G Rollout in Nigeria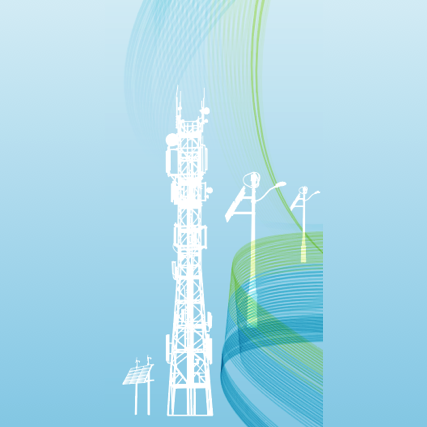 First two pilot sites to validate a planned rollout across 100 sites in 2020
September 17, 2019, Toronto, ON – Clear Blue Technologies International Inc. (Clear Blue or "the Company") (TSXV: CBLU) (FRANKFURT: 0YA), the Smart Off-Grid™ company, today announced its Smart Off-Grid technology will be used to power new telecom systems in support of voice and data services from 9mobile, a fast-growing communications provider in Nigeria. Clear Blue was selected for the project by Raeanna Nigeria Limited, a Nigerian infrastructure company focused on rural connectivity and energy solutions.
The two sites in southern Nigeria are proof-of-concepts for a planned much larger 2G/3G/4G project. 9mobile and Raeanna hope to roll out 100 sites in 2020 that will deliver voice and data connectivity in urban and suburban areas of Nigeria.
"Based on the success of our previous collaborations, Clear Blue was the only choice to be the power systems provider for this exciting new project," said Tunji Alabi, Executive Director of Raeanna Nigeria Limited. "These new sites will add to 9mobile's telecom infrastructure to meet the huge and growing demand for high speed data in Nigeria."
Clear Blue's ability to deliver clean, managed, wireless power – anywhere and anytime – is possible because of its unique, patented predictive analytics. Clear Blue's service team uses its Illumience platform to manage, control and operate all power systems remotely, ensuring the high availability and service levels needed for telecom services. Illumience is the industry's most advanced off-grid management service, providing real-time, 24-7, remote control, monitoring, and management of systems using Smart Off-Grid power.
"With a population of 190 million, Nigeria is one of the largest and fastest growing telecom markets in Africa. Telecom operators, Facebook, and other tech giants are responding to demand with investments for massive rollouts to bring the next billion people onto the Internet," said Miriam Tuerk, CEO and co-founder of Clear Blue."We are thrilled with our continued partnership with Raeanna on a new project that will enhance the lives of citizens in Nigeria."
About Clear Blue Technologies International
Clear Blue Technologies delivers clean, managed, wireless power – anywhere and anytime. We use our patented Smart Off-Grid technology, delivered through our Energy-as-a-Service business model, to manage lighting, telecom, Internet of Things devices, and other critical systems around the world. Clear Blue has thousands of systems under management across 36 countries, including the U.S. and Canada. Clear Blue is publicly tradedon the Toronto Venture Exchange under the symbol CBLU and on the Frankfurt Stock Exchange (FRANKFURT: 0YA). Learn more at www.clearbluetechnologies.com.
About Raeanna Nigeria Ltd
Raeanna Nigeria Limited is a leading telecommunication infrastructure service provider in Nigeria and the Africa sub-region. Over the last 17 years of its existence, the company has grown steadily from a telecom infrastructure provider to a licensed colocation service provider and a leader in provision of rural telephony services across Nigeria. As an innovative technology driven company, our mission to connect hamlets and villages within Africa has become the bedrock of the organization with a view to improving technology advancement across Africa.
Legal Disclaimer
Neither the TSX Venture Exchange nor its Regulation Services Provider (as that term is defined in the policies of the TSX Venture Exchange) accepts responsibility for the adequacy or accuracy of this release.
Media Contact:
Becky Nye
Director, Montieth & Company
+1 646.864.3517
Investor Relations:
Miriam Tuerk
CEO, Clear Blue Technologies
+1 416-433-3952
invest@clearbluetechnologies.com
http://www.clearbluetechnologies.com/en/investors